Prostate Cancer
David B.
David - Dx 1997. Symptoms of blocked urination from swelling and pain. Dear Fred - The doctors wanted to do a radical prostatectomy, I refused to accept that. I researched the subject and used many herbs, which did reduce the swelling and my urination became more normal. After about 6 months, my doctor confirmed that there was no evidence of cancer. I was in total remission.
In December 2001, a few weeks before Christmas, I was walking on the sidewalk when the driver of a car lost control, drove up on the sidewalk and struck me with a 40 MPH impact, I was thrown over the hood, windshield, etc. I was in serious condition in the hospital. With all the treatments they gave me to save my life, it changed my chemistry and brought me out of remission, my cancer was back.
The doctors demanded that I go along with their intended treatments, I refused again. I went back to my original treatments, only to learn that they did not work this time. I saw the philosophy and program created by Fred at NCRF. It seemed too simple, and I did not chose to go further. I kept the information on my refrigerator. I returned to the doctors, refused the surgery, they gave me Zoledex, (Lupron) which made me worse instead of better. I could not urinate and I had pain. I was told to be patient. I had a total of three shots, I became quite weak, useless, my voice was raspy and gravelly.
At the end of the summer, I decided to call and speak to Fred. We spoke at length. I started to understand how it worked, I decided to try it. I started my nutritional program on September 3, 2003. Within a few days, the pressure in my pelvis reduced quite a bit and I was able to urinate with less difficulty.
After a few weeks, my voice improved and was not as gravelly, it became stronger as well. My pains were diminishing, and my urination problems were almost non-existent. I previously needed to take a nap 3 or 4 times through out the day, and I was tired all the time. Now I never need any naps, and I have full energy, more than any typical 75 year old. I no longer bruise, and my nail funguses all cleared up. My nails are wonderful again and I am no longer cold. I have better color and I feel great.
I also had blood clots, which are a side effect from Zoledex (Lupron) I took the program plus 50 - 60 grams of vitamin C daily to get rid of the blood clots, which worked fine. Because of the high acid in the vitamin C, the urination problem came back a little. Since I reduced the vitamin C, the swelling is diminishing and the urination is improving. I am almost totally back to being myself again.
UPDATE: 3/25/04 EXCELLENT !!!!
Dear Fred,
These are copies of my medical lab reports that show a substantial decrease in his PSA level over the course of one week.
The initial blood test on 3/16/2004 showed a PSA result of 20.11.
The second blood test, taken six days later on 3/22/2004 showed a PSA result of 11.81.
Prior, I was having extreme discomfort from my very enlarged prostate due to my cancer. By taking my nutritional program at dosage level 8 for six days, I was able to lower my PSA by almost 50% and the pain and size greatly diminished.
I have another blood test scheduled for next Monday, 3/29/2004. I will send you the results of that test also.
Just one more irrefutable medical documentation of the power of nutritional improvements to help the body heal.
Hope all is well.
Best,
David
March 16, 2004 PSA = 20.11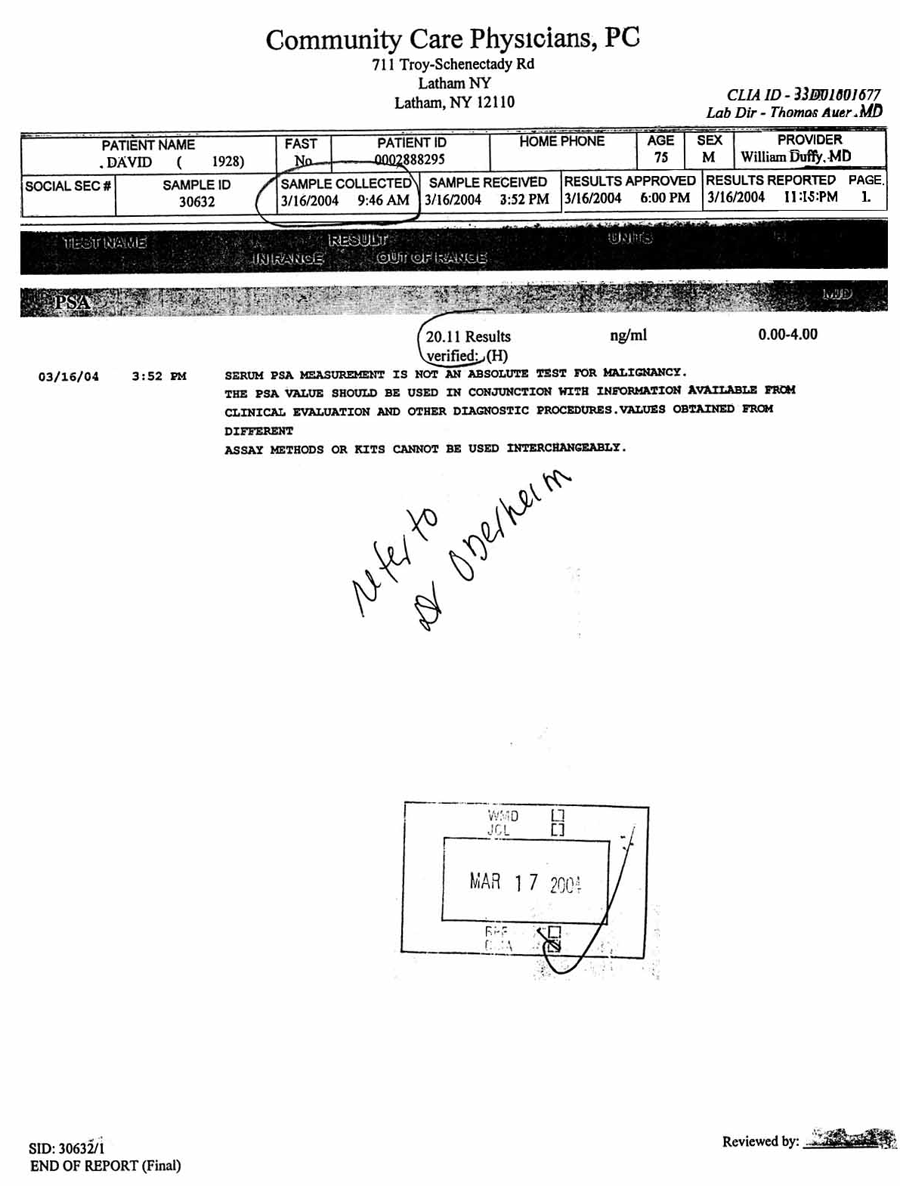 March 22, 2004 PSA = 11.81