Studies: CT scan overexposure triggers cancer risk
December 15, 2009 By DELTHIA RICKS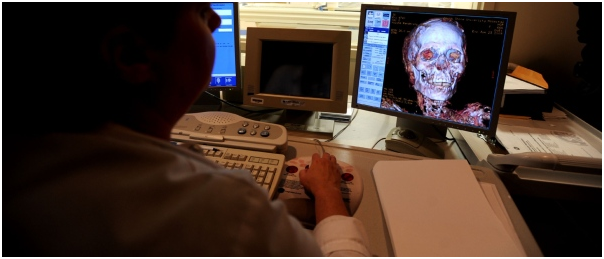 Photo credit: Newsday File / Karen Wiles Stabile * CT scan
Overexposure to radiation-rich CT scans could lead to thousands of new cancer diagnoses in the United States in the coming years, according to a pair of medical studies released Tuesday.
The two analyses, reported in the Archives of Internal Medicine, estimate for the first time the widespread public health risks from the popular tests.
One study suggests that for each year current scanners are in use, 14,500 patients could die years later as a result of radiation-induced cancers. The other study adds even more chilling numerical detail - 29,000 future cancers from scans conducted in 2007 alone.
A single CT scan of the chest, scientists say, is equivalent to 100 chest X-rays.
Bottom line for both analyses: CT tests have risen threefold since 1993. An estimated 72 million scans will have been conducted by year's end.
"This is a wake-up call," said Dr. Michael Poon, professor of radiology and medicine and director of Stony Brook University Medical Center's advanced cardiac imaging program. "I have been researching methods to reduce the dose," he said. "To give you some examples, for children we routinely lower the voltage [on the scanner] from 120 kilovolts to 80 kilovolts. That reduces radiation by 40 to 50 percent."
Poon is also a past president of the Society of Cardiovascular Computed Tomography, an organization devoted entirely to cardiac CT scanning. The society has been designing protocols to be used nationwide that emphasize lower CT dosages, he said.
Poon cited so-called "defensive medicine" as one of the reasons some people unnecessarily receive CT scans. Doctors order the tests, Poon said, as a way to protect themselves from litigious patients.
Last week, the U.S. Food and Drug Administration issued interim regulations calling for closer monitoring after 250 cases of radiation overexposure in October.
In one of the studies reported in the medical journal Tuesday, scientists at the University of California in San Francisco found dramatically variant dosages patients received at several medical centers for the same procedure - an average of a 13-fold difference.
In the other analysis, Dr. Amy Berrington de Gonzalez of the National Cancer Institute found that because more women are scanned than men, they would likely bear the brunt of future cancers related to CT scanning. Her research also found that 30 percent of CT scans are performed on people between the ages of 35 and 54, 13 percent on those between 18 and 34 and 7 percent on children.
"In radiology we are all very much aware of the risks from radiation, so quite honestly, these studies are eye-opening, but they're eye-opening because they should be the beginning of a conversation throughout all departments of medicine," said Dr. Lee Collins, a pediatric radiologist at Schneider Children's Hospital in New Hyde Park.
Collins added that while the data are frightening, it is also important to bear in mind that CT scanners are vital lifesaving tools.
"In a trauma center a CT scan is critical in saving patients' lives," Collins said, "and they're critical in diagnosing pulmonary emboli life-threatening clots in pulmonary vessels."