From Major Newspaper in Trillick, Ireland - Michael Mc Arow's 100th Birthday Celebration – May 26, 1996
U.S. President Sends Birthday Greeting To Trillick Centenarian
A PERSONAL BIRTHDAY wish from the President of the United States was the icing on the cake for a special Trillick man, who on Saturday last, celebrated his 100th birthday.
Mr. Michael Mc Arow, was joined by a large gathering of relatives and neighbours, who gathered at his Derrymacana home, to partake of the birthday party fun.
And taking immense enjoyment from the whole revelry was the sprightly centenarian, who had a warm welcome for all his invited guests.
The house was adorned with dozens of greeting cards, but pride of place were the customary telegram from Queen Elizabeth, a personal letter from the President of Ireland, Mrs. Mary Robinson, a papal blessing from the Pope, and a birthday greeting from Mr. Bill Clinton.
CITIZENSHIP
In the 1920's Michael worked for the Fifth Avenue Coach Company in New York for twelve years, which earned him American citizenship, as a result of which he received the congratulatory letter from that country's president.
Michael was born at Annagrane, Brookeborough on 25th May, 1896, the son of Mr. and Mrs. Patrick Mc Arow. He was one of eight children. Michael had a twin brother, Thomas, who died in New York in the 1960s.
When Michael's parents died, he returned to the family farm at Rawe, Irvinestown, where he worked until he obtained employment in Belfast.
There he met and married the former Mary Monahan Liffar, Trillick and they both returned to Lack where Michael bought a farm at Largy which he farmed for the next fifty years.
He and his late wife, who died in 1968, had two children, Eleanor, the widow of the late Kevin Tunney, and the late Thomas, who died five years ago.
Michael has been living with his daughter Eleanor, at her home in Derrymacana for the past fifteen years, where was a familiar sight doing light gardening work, and only a few days ago, could be seen trimming hedges.
GOOD HEALTH
With the exception of being hard of hearing, Michael is blessed with good health, and takes great pride in his appearance. He likes nothing better than to while away an afternoon reading newspapers or the Readers Digest, as he contentedly puffs on his pipe.
Living at the home of Eleanor, who has been widowed for twenty-five years, Michael's help and guidance in raising her five young children has been much valued.
They are no longer children of course, and two are now living in Belfast, two in London and one in Scotland. They all flew home to be with their grandfather on his special day. Making the day complete for Michael was the presence of his two great-grandchildren, Mark and Katie.
To mark the occasion, Fr. Mc Kenna, PP, celebrated Mass in the home, after which the guests were feted to a sumptuous buffet. A large birthday cake with the figures '100' was brought in, and Michael assisted by his daughter, blew out the candles before cutting it.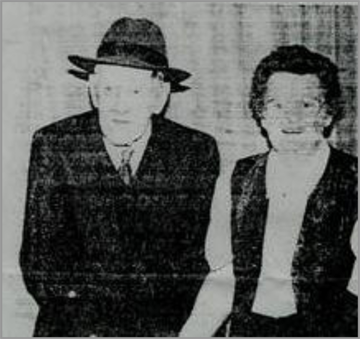 Mr. Michael Mc Arow who celebrated his 100th birthday on Saturday. He is pictured cutting his cake with his daughter, Mrs. Eleanor Tunney.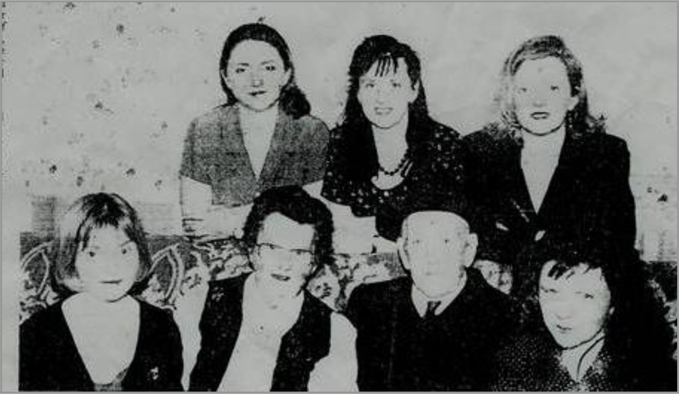 Mr. Mc Arow with his daughter, Eleanor and grandchildren – seated left, Nuala Duckett, seated right, Deirdre Mc Guinness.
Back row from left Pauline, Eleanor & Katie.